Welcome
The Harwood Farm Trust was established by Miss Myra Annie Zita Arnaboldi by way of a Deed of Trust dated the 9th November 1981.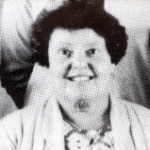 Miss Arnaboldi was born in 1908 and died on the 19th October 1985. She was a highly respected Teacher, and later Principal, at the Primary School in Waipawa.  She inherited the farm property in Weber from her parents, and she appointed a farm manager to farm it for her. 
Miss Arnaboldi conceived the idea of combining the two great interests in her life, teaching and farming, by forming a Charitable Trust (Certificate of Charitable Status, Charities Commission entry CC22798), which she was to call "The Harwood Farm Trust".  The Trust was also established to honour the memory of her mother, the late Mrs Dorothy McAtemney.


Please see the 2017 Scholarship tab to see the successful applicants that received scholarships in the 2015, 2016 and 2017 years.
After almost 30 years loyal service to the trust, Max Buckendahl has retired as Farm Manager. We wish Max and Lynn all the best for their future and semi-retirement.
The trustees have the pleasure of appointing Ian Elliffe as Farm Manager and look forward to working closely with him. We welcome Ian, Alice and their two children to the district and Harwood Farm Trust.